Villa Ruusula
Villa Ruusula is the art residence of Sari Kaasinen, founder of the internationally renowned Finnish folk ensemble, "Värttinä". Villa Ruusula opens its doors to guests throughout the year, to host concerts and various meetings, and to offer courses and training in music and well-being. Our spaces are also available for a variety of private events and celebrations. Villa Ruusula offers a wide array of opportunities for you to choose from: book a concert, learn to play the kantele, join in on an intimate sing-along with Sari herself, or simply spend an unforgettable evening in the Villa Ruusula sauna.
Villa Ruusula upholds the rich tradition and culture of Karelia with its abundant food offerings. Choose a traditional Karelian menu, our Ruusula raclette evening buffet, or order our famous "Rantakala" fish soup, followed by the Hostess's sumptuous cake buffet. Villa Ruusula accommodates up to 25 guests. Wake up refreshed after an exceptionally good night's sleep in one of our spacious, individually designed rooms, suitable for 2-4 people.
An arts and culture ambiance and so much more! At Villa Ruusula you can become one with nature – immersed in the sounds of silence, birds singing, and nearby waves gently lapping the shore. You can also enjoy an easy and safe walk along the forest trails that surround the gardens of the villa.
When do you wish to come?
Villa Ruusula for business meetings
Memorable meetings begin with memorable locations. The shores of Lake Saimaa offer the perfect setting for your meeting, celebration, or retreat! "Ruusulan Uamunen" (morning coffee), brunch, lunch and other meals are served in our exquisite dining room, and your meeting is assured to run smoothly in our fully equipped Lato (barn) served by a fibre optic internet connection. We look forward to working with you in customising a programme that is best suited to your individual wishes.
Duration: half day / all day
Size of group: 20-50 people
Cost: beginning at 50 € / person. (including morning and afternoon coffee, lunch)
Yoga and well-being
Take part in our yoga retreat (brought to you in cooperation with the Kuntokikka sports centre), our well-being weekend, or organise your own stress-reduction activity programme at Villa Ruusula. Our courses are led by top professionals, who have acquired special expertise within their field. All meals and accommodations are included in the price. Have a look at our course offerings under "Upcoming events" in the menu — or contact us direct to organise your own special event at Ruusula.
Ruusula Folk
The low-threshold Ruusula Folk music courses bring together people of all ages – both amateurs and professionals in music. Led by Rääkkylän-born folk musicians Mari and Sari Kaasinen and Jukka Kyllönen, we will experience the joy of singing and playing together.
Check the timetable for these courses under the "Upcoming events" in the menu above.
Playing the kantele with Sari Kaasinen
Under Sari's expert lead, everyone present can familiarise themselves with Finnish and Karelian folk music and learn the basics of playing the five-string kantele. In this special session, you will learn the fundamental techniques of plucking, accompaniment, and tuning the instrument. Upon completing the session, you will receive a Kantele master's certificate. If you don't have your own kantele, no worries, we will gladly supply you with one.
Duration: approx. 75 minutes
Group size: 10-25 people
Price: 65 €/person (includes Villa Ruusula's afternoon coffee/tea/juice)
children under 12 at half price.
Sing-along with Sari
At our special Sing-along with Sari sessions, we will sing familiar folk and evergreen songs. In between group singing, Sari may sing a solo piece, or take her kantele from its case and play us a tune. The Sing-along is a perfect programme to accompany a well-being session for personnel and can be integrated to work well with any of our other session offerings. It is a proven fact that singing together does everybody a world of good!
Duration: 60 minutes
Group size: 20 people
Price: 35 € / person (including Villa Ruusula's afternoon coffee/tea/juice)
Ruusula Raclette evening
The bountiful table at Villa Ruusula will be set to include traditional Swiss Raclette cheese and a variety of well-known Karelian side dishes, providing plenty of tasty delights sure to please everybody. Our Ruusula Raclette evening is a wonderful way to spend an evening together with a group of friends or your company personnel, and a grand way to end a conference.
Duration: 2-3 hours
Group size: 8-30 people
Price: 35 € / person
Villa Ruusula Rantakala (fish soup enjoyed at the lake shore)
With the assurance of several decades of experience, the special Kauko Kaasinen pot never fails in producing the tastiest fish soup, cooked to perfection in the traditional way outdoors. While the soup is simmering, guests can enjoy listening to Sari play her accordion, or perhaps take a short walk in the nearby forest.
(The Rantakala brings the evening to a climax and can be included in any visit to Villa Ruusula.)
Duration: 1-2 hours
Group size: 20-50 people
Price: 29 € / person
Girls' night out / Guys' sauna night
Gather a group of friends and come enjoy the gentle heat of our sauna! The evening begins with a great big welcome from Sari, after which everyone will have time to engage in their favourite activities: checking out the forest trails, participating in a relaxing kantele session, or perhaps boosting your metabolism by including a strenuous log workout session. The evening culminates with a relaxing sauna, hot tub, and jump in the lake! We highly recommend you include the Ruusula Raclette for your evening's dining pleasure.
Duration: 3-4 hours
Group size: 10-25 people
Price: 85 € / person (depending on meal choice)
Spaces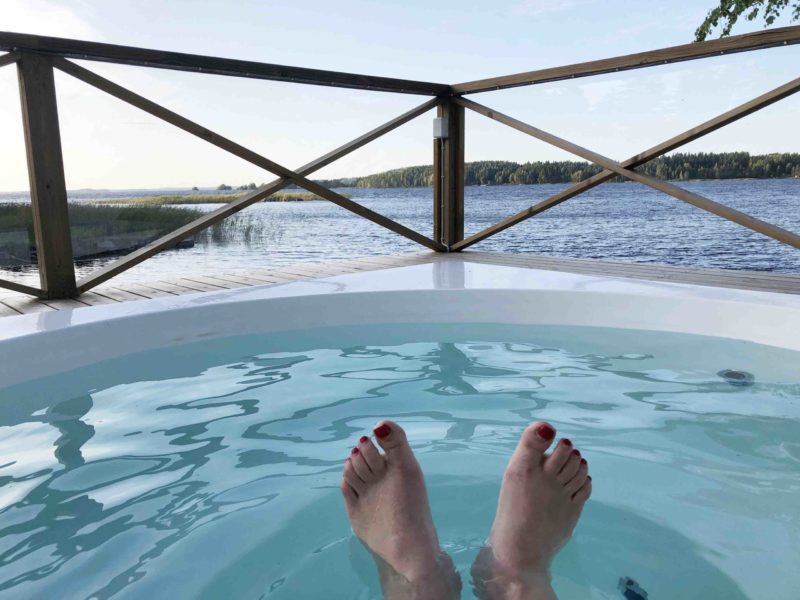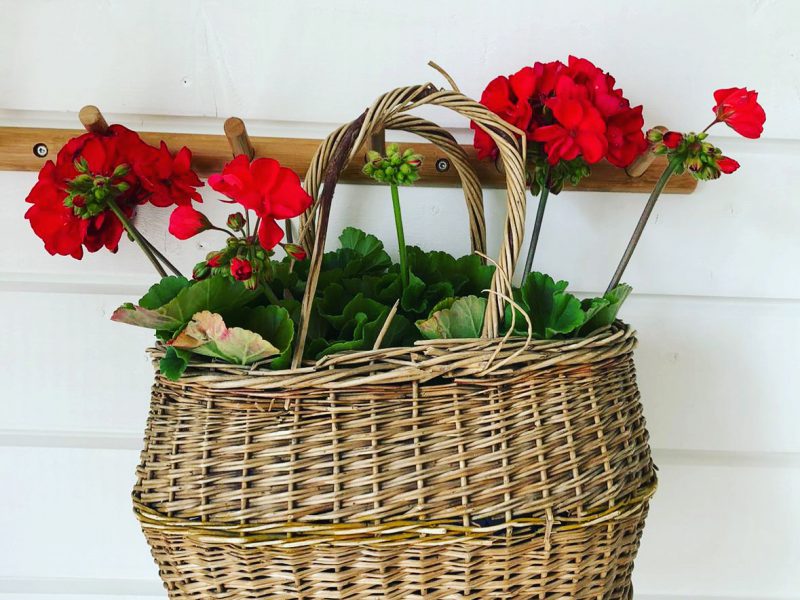 Have the time of your life at Villa Ruusula!
Are you seeking quiet surroundings for a family party? Looking for a meeting or conference space amidst nature, or a lakeside venue for your next meeting? Maybe you're dreaming of relaxing in the hot steam of a wood-heated sauna by the shores of Lake Saimaa? Whatever your dreams may be, they can come true — with a visit to Villa Ruusula.
Villa Ruusula is, first and foremost, an artist's home. A place where the arts, culture, and traditions come together; blending perfectly with the hostess's own special interest and talent in interior design, acquiring beautiful furniture, and joy of gardening — all of these elements are readily evident and observable in everyday life and in the festivities that take place at Villa Ruusula. Each Villa Ruusula room is beautifully decorated and designed for comfort. All rooms are equipped with a high-speed internet connection.
Villa Ruusula spaces are available for the purpose of organising events and festivities, and can be rented by businesses or other entities, as well as by private parties:
Main building
Dining room seating 30 people with own entry and terrace
Living room / lounge with TV
6 Bedrooms (12-16 people)
Fully equipped kitchen
Masonry oven
Heat retaining fireplace
2 bathrooms
Utility room with washing machine
Electric sauna
Spacious terrace with a gas grill and dining table seating up to 14 people.
Lato
Space for celebrations, concerts, and meetings
seating capacity of 50-80 people
Fully equipped with AV equipment
Wireless optical fibre internet connection
Piano
Can be furnished to suit the occasion
Courtyard building
Pihakammari Kielo (2-4 people: two beds and one bunk bed)

Pihakammari Pioni (2-4 people: two beds and on bunk bed)
Lakeside sauna
Wood-heated sauna – accommodates up to 10 people 

Large terrace with continuously heated DROP hot tub 

Saunakammari with sleeping loft for 2-4 people.

"Huussi" (outhouse)
Courtyard and lakeside area
Playhouse, swings

In ground trampoline

Fire pit

2 rowing boats

Sandy beach
Contact information
Villa Ruusula
Rasivaara, Rääkkylä
Further info and booking:
Sari Kaasinen
tel. +358 50 564 0930
myynti@villaruusula.fi
Please note that Villa Ruusula is also Sari Kaasisen's home and is open only by reservation.